Electrical and computer engineering students make history as student-designed CubeSat is launched into orbit
Wed, 02/03/2021 - 3:16pm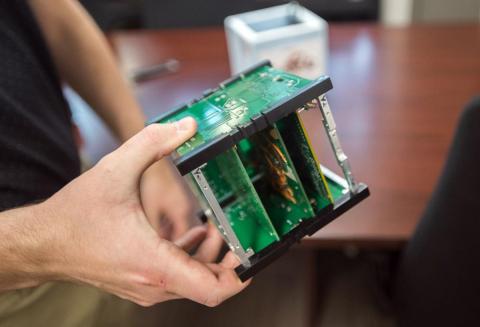 CubeSat with an open face, showing printed circuit boards within the cube's frame. Printed circuit boards are designed from scratch by student teams to include computing, communications, power, and payload functions.
Electrical and Computer Engineering students make history as student-made CubeSat is launched into orbit as the result of a partnership with NASA and Virgin Orbit.
On Sunday, January 17, 2021, Virgin Orbit flew into space for the first time. This preliminary flight included a launch of a solar powered CubeSat designed and built by students in our very own Cajun Advanced Picosatellite Experiment, CAPE, laboratory!
The CAPE laboratory is part of the Department of Electrical and Computer Engineering (EECE). The CAPE team is a multi-disciplinary team, with some members from Mechanical Engineering and Computer Science led by Electrical and Computer Engineering.
The Virgin Orbit customized aircraft, Cosmic Girl, carried the LaucherOne rocket to a location where it blasted into space to deliver nine payloads. Our CAPE-3 satellite was one of those payloads. This experimental CubeSat is one of our EECE three satellites which have all been part of NASA's CubeSat Launch Initiative here at UL Lafayette. CAPE-1 and -2 were launched in 2007 and 2013.
"We are very proud of our students and their achievements as well as being a part of the NASA's CubeSat Launch Initiative. This program gives our students a unique 'invaluable' experience. This success reflects the high quality of education that our College provides. A huge thanks to our EECE department, our engineering alumnus Mr. Nick Pugh, the man who made all of this possible and Dr. Paul Darby, Faculty Advisor for the team," said Dr. Ahmed Khattab, Dean of Engineering.
Dr. Magdy Bayoumi, Department Head of Electrical and Computer Engineering said, "I am very pleased with the successful launching of CAPE-3. This is our third successful Pico Satellite in the last 14 years. Very few universities have such sustainable success in the whole world. It is a reflection of several bold and well-studied strategies and their plans of achieving them. It is a testament of the quality of our Electrical and Computer Engineering curriculum, the College of Engineering, and the high level of courses that prepare these students. We really graduate engineers who are ready for engineering jobs. Many factors have led to the success of this program such as an interdisciplinary team led by EECE, that includes members from Mechanical Engineering and Computer Science, and a very close collaboration with local industry and alumni. Congratulations and thanks to the whole team, our Cajun Pico Satellite is in orbit collecting data as we speak. Thanks Nick!"
CAPE-3 is a one-unit CubeSat (10 cm x 10 cm x 11.35 cm with a maximum weight of 1.33 kg.). Students will be able to set up a ground station and interact with the satellite using a smartphone app. Its purpose is to conduct two experiments in orbit. The first is the Astronaut-wearable Radiation Monitoring for Operation in high Radiation environments, (ARMOR) experiment. This experiment will test, calibrate, and collect data that may prove the viability of a miniature (chip-sized), solid state radiation detector. The data collected will aid in the development of a wearable radiation detector for astronauts on the International Space Station. CAPE-3 will also conduct experiments that have the potential to allow any student with a smartphone and Internet access to run experiments on the satellite from their smartphone in their classroom and to get the experiment results back. If this system concept can be proven it will greatly expand the reach of CubeSat technology to students around the globe.
Virgin Orbit launches the LauncherOne rocket carrying CAPE-3 and eight other payloads to space. Photo credit: Virgin Orbit
"Virgin Orbit's novel launch system uses a technique called air launch, in which a rocket is launched from under the wing of a jet aircraft, rather than from a traditional launch pad on the ground." "The payloads onboard LauncherOne were selected by NASA LSP as part of the agency's CubeSat Launch Initiative. Nearly all of the CubeSat missions were designed, built and tested by universities across the US, including Brigham Young University (PICS), the University of Michigan (MiTEE), and the University of Louisiana at Lafayette (CAPE-3)." 1
Because of the hard work of our students, faculty, alumni, industry volunteers and sponsors, the University of Louisiana at Lafayette's College of Engineering is now forever a part of Virgin Orbit's history. Our contribution has led to the success of this ground-breaking demonstration and has paved the way for future commercial launches.
The Associated Press feautred an article about the launch on January 24, 2021. The article can be found here. Other articles on this historic event can be found here and here.
1Greg Rose, 'Virgin Orbit Reaches Space for First Time', Virgin.com, https://virgin.com/about-virgin/latest/virgin-orbit-reaches-space-for-fi..., (accessed 12 January 2021).